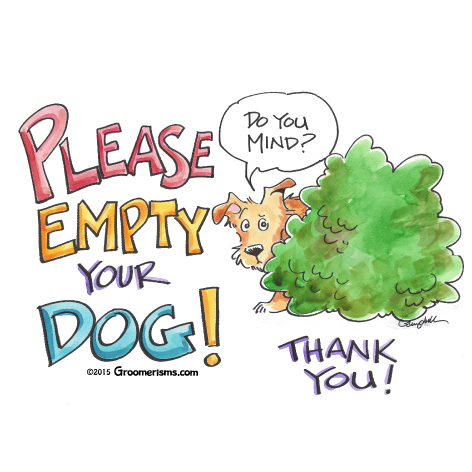 Client Guidelines
Pet grooming works best when there aren't any surprises. To keep our day running smoothly, we ask our clients to follow these guidelines:
» Be on time. Smooth scheduling requires a punctual clientele. Pets more than 20 minutes late may incur a $20 late fee and/or be rescheduled for another day. Early clients can also be disruptive, so please try to arrive as close to your appointment time as possible.
» Pick up promptly. To minimize messes and anxiety, we prefer that pets go home as soon as their groom is finished. We'll call when they're ready for pick-up. For most pets, this will take less than two hours. If this doesn't work with your schedule, let us know when you make your appointment and we'll do our best to accommodate you.
» Alert us of health issues. Please advise us of any medical issues affecting your pet when you make your appointment. Pets with contagious, airborne illnesses will not given an appointment until they've been cleared by a veterinarian. Other issues will be dealt with on a case by case basis.
» Share vaccination history. We do not require copies of shot records, but please tell us if your pet is high-risk because of under-vaccination. Most commonly, this applies to puppies and kittens too young to have finished their initial series, pets with immune disorders, and senior pets. For information on the latest vaccination recommendations, read Dr. Dodd's protocols for Dogs and Cats.
» Watch out for parasites. While it used to be common for groomers to offer flea baths, today parasites are considered a medical -- not a grooming -- issue, so please treat them according to your veterinarian's instructions before making your appointment.
» Be open about behavioral concerns. We specialize in working with difficult pets, so if your pet has a history of aggression, marking, or other challenging behaviors, let us know. If we can find a way to accomodate them, we will.
» By appointment only. Because we're located in a private residence, we do not take walk-ins or have drop-in hours. You must have a scheduled appointment. As you come in the driveway, the entrance to the Pet Groom Studio is directly on your left, situated off the right side of the house. If the door is locked, please knock. If there is no answer, please call us at 440-381-6475.
» Manage your pets. Please potty your pets before arrival if you can, and if not, please clean up after them. For your pet's safety, please use a carrier or leash to bring them into the studio.
» Parking. Drop offs and pick ups may overlap, so be mindful of other clients entering or exiting the driveway.
» Payment. Payment is expected at pick-up time. We accept cash, checks, and all major credit cards. There will be a $25 fee for returned checks.