About K9 Design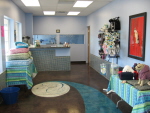 Testimonials - what our clients have to say.

Shop photos

Client photos - some of our recent clients.

How-To Section - a fabulous day at the spa begins at home. Learn how to optimize your pet's grooming experience.

Vania's Blog - Get to know your groomer through personal observations and anecdotes.

Groomerisms - Groomer-inspired comic strip printed gifts for pet professionals and pet lovers.